Holly Willoughby M&S Autumn Collection 2019
Declaration: This Blog is affiliated to Shopstyle and the author will receive compensation for purchases and link clicks.
Holly wore an M&S Collection Floral Midi Dress £45 in Ivory Mix, from the M&S Autumn collection on Friday 6th September 2019.
A flattering shape and intricate bohemian-inspired print make this Seventies-inspired dress a real standout piece. A vibrant update to one of our most popular styles, it has a flowing midi-length cut with shirred detailing that accentuates your waist. The low stand neck and rich autumnal colour palette are stylish seasonal touches to welcome in the cooler weather with.
Holly's boots are Autograph Suede Square Toe Flared Heel Ankle Boots £79 in Ochre. In supremely supple suede, these statement square-toed boots from our Autograph collection will instantly update any outfit. The flared wooden heel is practical yet fashion-forward. Zip fastening to the side. Insolia® technology helps support the long-term health of your feet.
Holly is wearing an M&S Collection Striped Polo Neck £8.50 in Black Mix. With a fitted look and stripy print, this t-shirt is a great all-rounder. Figure-hugging cut. Long sleeve with funnel neck. Added stretch and StayNew™ finish, keeping the colour fresh for longer. Crafted from sustainably sourced cotton.
Holly's hat is an M&S Collection Faux Shearling Baker Boy Cap £17.50 in Black. This super-warm take on the classic baker boy cap is made from faux shearling, with a thick and fleecy texture. Typical captain's cap shape, with a slightly curved peak and a softer fit to the crown. Lined for extra comfort.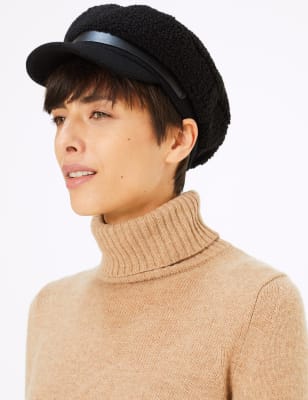 The Holly Willoughby Style Facebook Group is now open! A place for fan's of Holly's style to share fashion tips and fun clips, in a virtual living room, only accessible by group members.